The following steps will be done through the Zomato Dashboard (Zomato for Business). If you don't have access to the Zomato Dashboard (ZFB), or if your restaurant isn't already listed on Zomato, please click here. 
1) Log in to Zomato.com (with the email address used to claim your listing / the primary 'restaurant manager' on the account).
2) Select 'Dashboard' in the upper righthand corner. This will fire up your Zomato Dashboard (ZFB)!

3) On the lefthand side, under 'Table Booking', select 'Sign up for Book Lite'.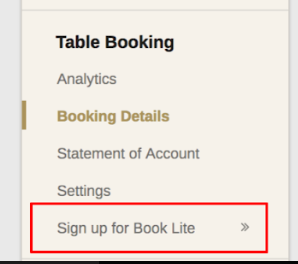 4) You will be redirected to the following screen.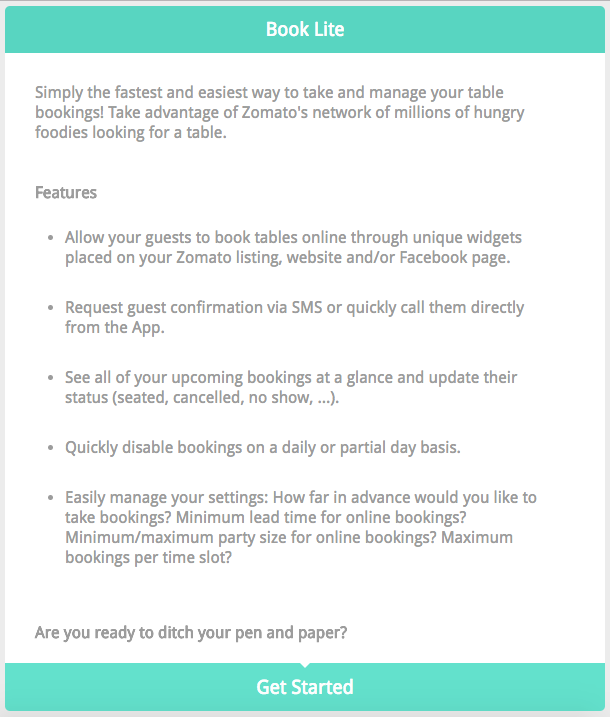 5) When you're ready, click 'Get Started' to begin the process! You'll first need to accept Zomato's T&Cs. Then click, 'Sign Up'.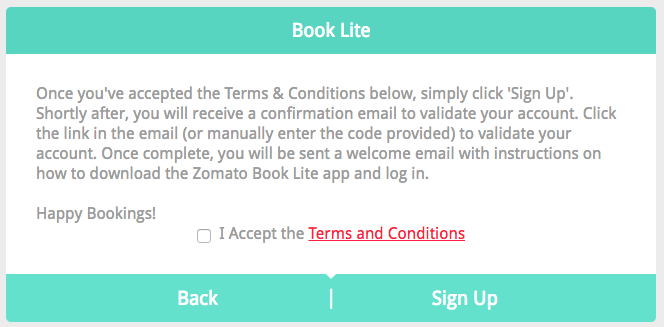 6) Shortly after, you'll receive a confirmation email requesting you to validate your account (this will only be sent to the primary 'restaurant manager' as defined in Zomato for Business). The subject of the email will read 'Zomato Book Confirmation Code' and it will be delivered by support@zomatobook.com. Click the big green button, 'Confirm' (or manually enter the 'code' at the bottom of the screen on the confirmation page.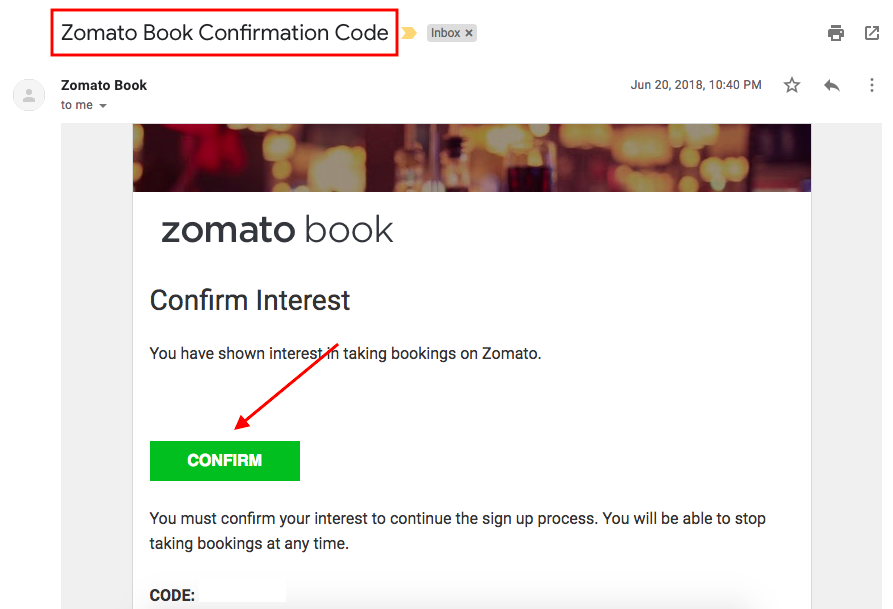 7) If everything goes to plan, you're all set! Check your inbox for a welcome email from Zomato Book Lite (subject: Welcome to Zomato Book Lite). The email will contain instructions on how to download the App, as well as your login credentials for both the App as well as the Web Portal. It will also define your default booking restrictions.
*Please note that an instant confirmation booking widget is already live on your Zomato listing. You are responsible for honoring any and all bookings that come through!
**If you would also like to take bookings from your website and/or Facebook page, please find instructions here.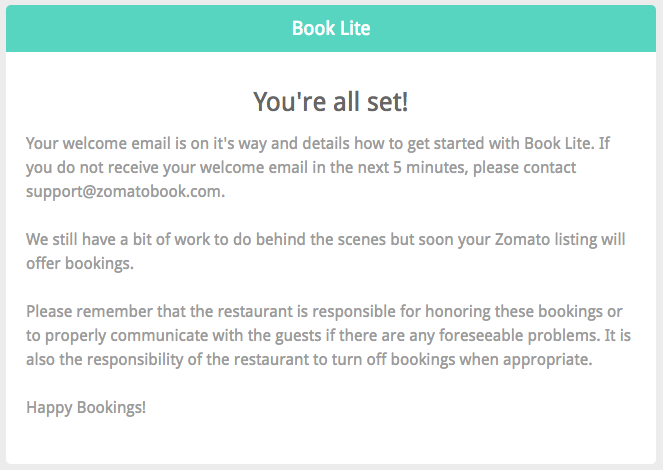 *If you don't receive your welcome email within 5 minutes, something might be wrong :/ Kindly contact support@zomatobook.com and someone from our team will be in touch within 12 hours.
**For Book Lite users, there is no way to indefinitely turn off online bookings from Zomato. Bookings can, however, be disabled on a daily or partial day basis.