For all venues currently on the Enterprise version of Zomato Book Pro (if your App shows, ENT, this is you), we're finally ready to move you over to the App Store version. The App Store version includes additional security layers as well as allows us to more easily push out updates and bug fixes.
Upon logging in to the Enterprise version, you will be encountered with the following message:
Book Pro Migration to App Store
Zomato Book has officially moved to the App Store! The new App is 100% identical to your current version and ALL of your data (including floor layouts, settings, upcoming bookings, guest data, etc.) will remain intact. If you have any concerns, please reach out to us directly by sending an email to support@zomatobook.com.
Important - before you begin, please ensure that you are logged into iTunes (this will require your Apple ID) and that there aren't any restrictions in place on your iPad that prevent you from downloading new Apps.
Step 1
Download Zomato Book Pro from the App Store by clicking the red 'Install' button below. Once you've successfully logged in, DELETE the Enterprise (ENT) version from your iPad.
Important - if you forgot your username/password, please continue to Step 2 below.
INSTALL (red button)
Step 2
Open the new Zomato Book Pro App (the one you just downloaded) and select 'forgot password'. Select 'Sign in with Code' and enter the following code (unique to your venue):
-xxxxxxxxx-
Here is the actual screen you will see -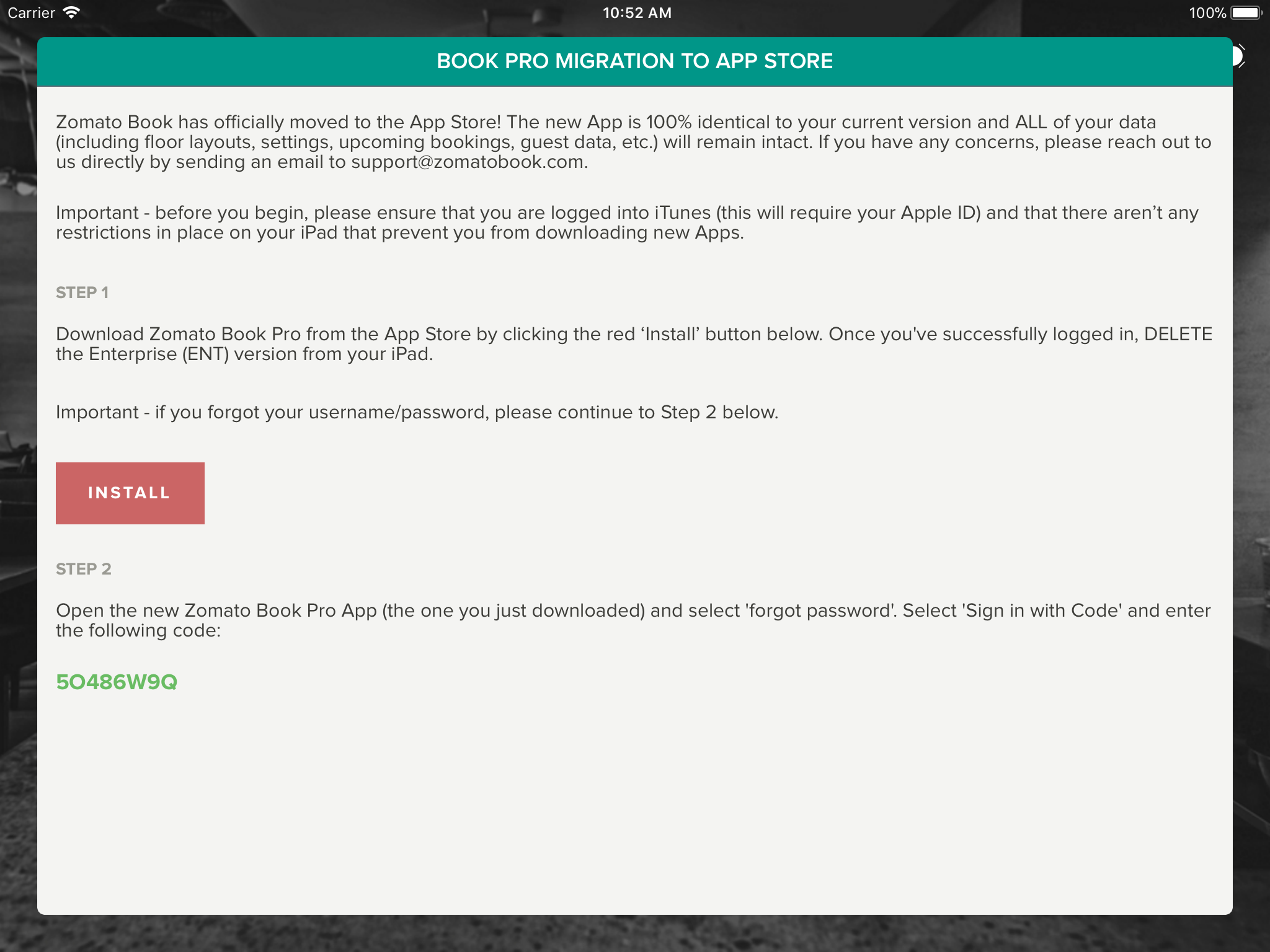 Once again, if you have any concerns, please don't hesitate to reach out to us directly by sending an email to support@zomatobook.com.
Happy bookings!